Email Marketing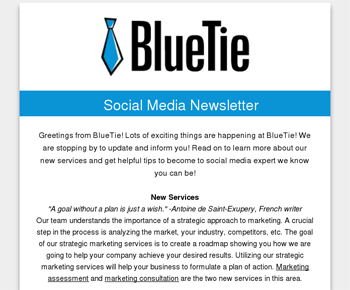 BlueTie will help you position your business as a thought-leader in your industry by creating e-newsletters that foster and leverage customer interaction. Businesses have difficulty finding the time to create professional e-newsletters to keep customers informed, engaged and even entertained. With this service, our team will help you connect with customers during this "moment of truth," or interaction with a customer, by building creative calls-to-action to produce desired results.
Strategy

Our team develops a plan to support your businesses objectives and goals. The strategy will revolve around that plan, taking into consideration your audience, message, call-to-action and the metric for measurement.

Set-Up

This includes gathering all email addresses, inputting them into the proper database and setting up the schedule, frequency, salutation, header and title of the newsletters.

Creation

Our design team will work on the branding, design, functionality, links and other elements of the email newsletter template.

Content

Our professional writers will write and edit the content to ensure the message is consistent.

Scheduling

Our team will utilize our best practices, which we have acquired over the years, to schedule the emails for times at which they will receive the maximum open and reading rates.

Execution

Once the emails are sent we will update any invalid addresses and ensure that the delivery was successfully executed along with tracking all important metrics to continuously make improvements.

Measurement

Most importantly, we will provide all important data such as open rate, bounce rate, timing of the view, click-through information, call-to-action rates and all other metrics that are important. Our team will make the necessary improvements based on the findings each month.

Database Management

We will manage all of the email addresses within the database system and monitor all the information to ensure 100% accuracy.